Art Changes Lives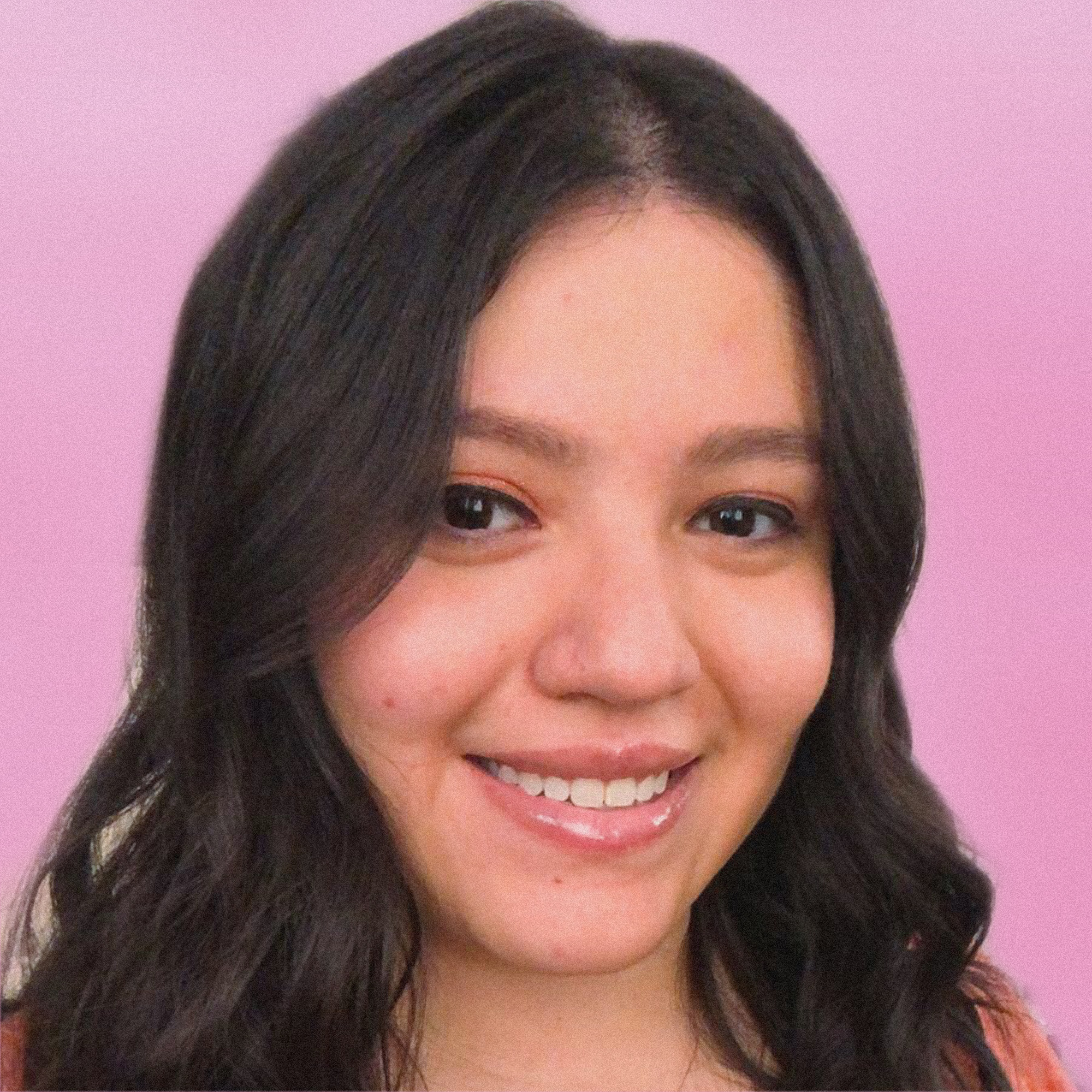 ---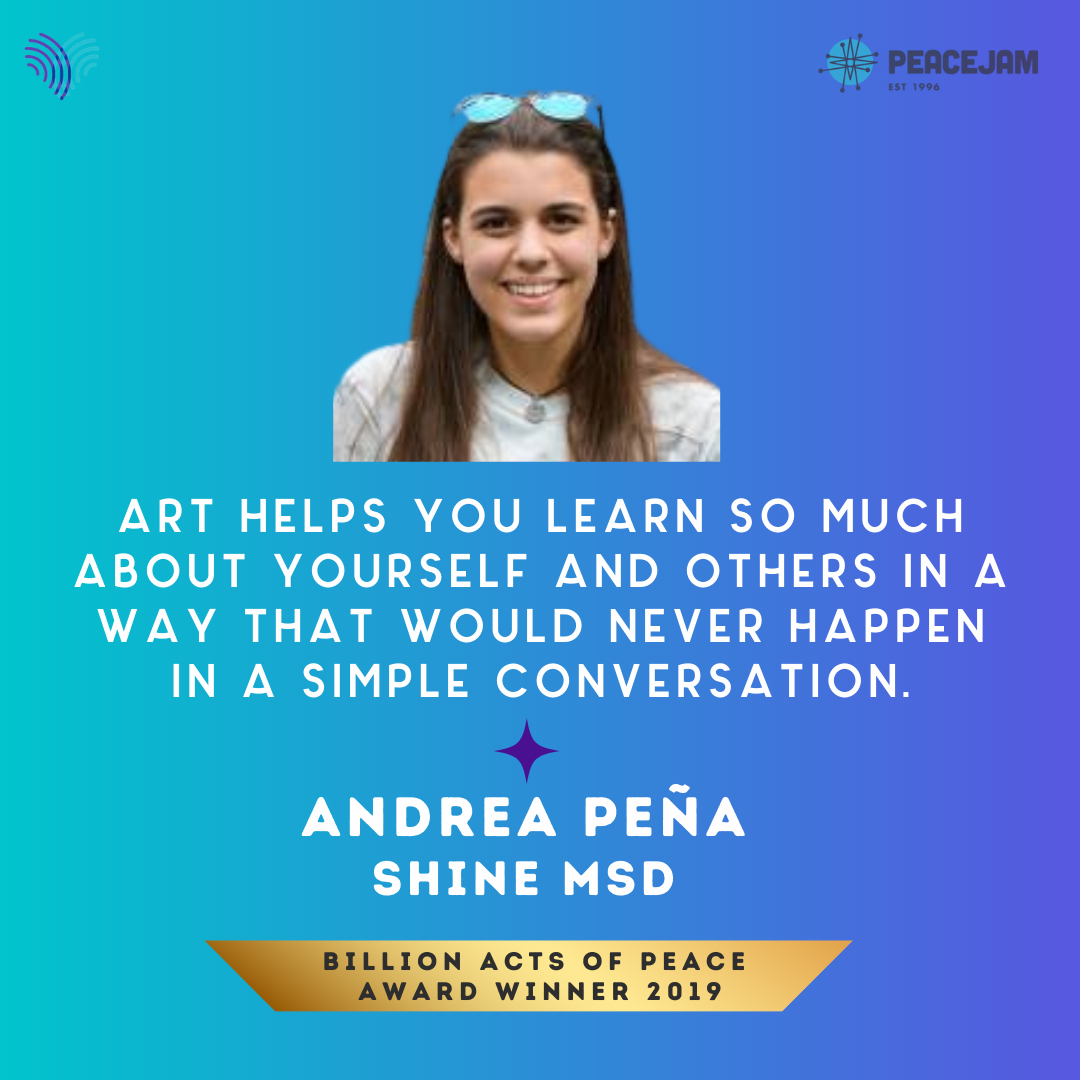 By guest editor: Monserrat Irazoqui.
It was Valentine's Day four years ago. What should have been a normal high school day with a dash of holiday cuteness ended up becoming a tragic one for those at Marjory Stoneman Douglas High School. News of a mass shooter in the premises started going around. The whole Parkland, Florida community was heavily concerned. Among those in the community, a father received a text from his daughter hiding in a closet.
"In case I don't make it out alive, I want you to know that I love you".
This father's following hours were filled with extreme worry but also hope. After the shooting ceased and survivors started leaving the premises, he was reunited with his daughter, Andrea Peña.
After hearing this story from her father, I couldn't stop the tears from running down my face. And after meeting Andrea, I couldn't help but feel inspired by her resilience and joyful personality. I met them both the day she received a Billion Acts of Peace Award in 2019 for her inspiring work at Shine MSD.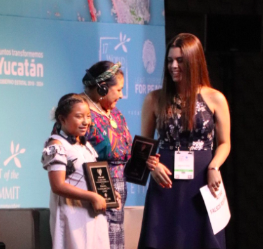 Andrea Peña receiving her Billion Acts of Peace award from Nobel Peace Prize laureate Rigoberta Menchú Tum alongside fellow 2019 recipient Xóchitl Cruz López.
Shine MSD is a nonprofit organization based in Florida, USA with the mission to provide teens and young adults skills to cope, heal, and overcome emotional challenges through music, art, and theater.
Andrea and her co-founder Sawyer Garrity channeled their pain and anger after the tragedy into writing an original song called "Shine". Their song quickly became an impactful anthem of strength and resilience that gathered a strong positive response from those around them as well as national media. They performed it live at the CNN Town Hall on February 21, 2018.
You can watch their performance here: Student's sing moving tribute to shooting victims
Andrea, Sawyer, and their families witnessed how strong the power of healing through artistic expression is which led them to create Shine MSD.
Over the years, Shine MSD has impacted the lives of many young people through the free workshops they have hosted online and in-person on different artistic expressions. Youth that have attended their workshops and classes have learned a different range of skills such as: songwriting, singing, music production, video editing, photography, acting, dancing, improv, drawing, and many more.
Currently, they are running their summer camp called "Camp Shine" which provides middle and high school students an opportunity to learn and participate in a range of creative exercises from drama & musical theater to songwriting or art.
I briefly spoke to Andrea recently to catch up and learn more about Camp Shine as well as their other workshops. She described them as a safe environment for young people to learn about the performance and audiovisual arts, be able to express themselves freely, and showcase their talents.
She mentioned that the students who attend might walk in not knowing anyone and thinking that they're alone on certain struggles in their daily lives and walk out with a sense of community knowing that they're not alone.
"Art helps you learn so much about yourself and others in a way that would never happen in a simple conversation" - Andrea Peña
Even though Shine MSD is aimed towards mental and emotional healing through the arts, Andrea mentioned that learning a performing art is also beneficial for our daily lives as well as professional careers. As a current college student and former drama theater student herself she mentions that this artistic expression made her confident in public speaking and in using her creativity for school presentations. She says that what she learned from musical theater is something that she wouldn't have learned anywhere else.
I got the chance to attend a video editing workshop they hosted online in the middle of the pandemic. I learned so much about myself: the way I see the world, the kind of stories I like to tell and how, and how important creative expression is to me. I also got to make friends that had the same interests as mine; to the point that one of them and I worked together in an independent TV production. We have all stayed in touch and constantly root for each other in our different projects. It has also opened many doors for me in my professional career. So, I can personally agree with everything Andrea said because I got to see very closely how essential Shine MSD's work is.
They say that young people are the future. And, having young people like Andrea and her team at Shine MSD as a testament to that means that we can certainly live in peace knowing that our future is in the best of hands. If you want to learn more about the work that Shine MSD is continually doing, please go to Shine MSD Website or follow them on social media: Instagram Facebook YouTube