End Gun Violence- Join the event June 11
---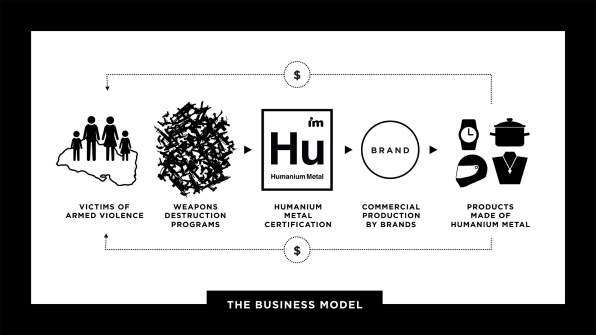 We launched Humanium Metal in the US, because our community constantly asked us to. We know that the current climate on gun violence is heated and feels overwhelming for many. We see Humanium Metal as a tool, that contributes to gun violence prevention in a very tangible way.
We support police stations and community-based organizations to facilitate gun destructions of illegal seized and collected guns. These guns will be completely destroyed and cannot fall into the wrong hands anymore. And we don't stop there. We transform the metal from the guns into Humanium Metal, a stainless steel used at commercial scale. The income-generated always goes to non-profits working in the affected communities.
We launched Humanium Metal in the US in 2021, in partnership with the Maine Gun Safety Coalition and one single police station, that dared. On June 11th , we have our second destruction with eleven police departments signed up. We believe that this is just the beginning. We want to see people coming together for gun destructions all over the country.
And you can help us! How?
-Tune in: You can join us live on June 11ths at 12.00 o'clock on insta, where you'll be able to watch the destruction: @humaniummetal
-Spread the news: You can share information from our socials, starting with WearOrange https://wearorange.org/ on June 3rd
-Educate yourself: What about your city? Are guns destroyed regularly? If not, let's join forces and advocate for a gun destruction in your city!
-Raise your voice: Contact your city council, mayor, or just the police department next door. Ask them whether they destroy the guns they seize or those that are handed in. You can always reach out for support to the Humanium Metal team. Write us on social media, or an Email to Jacqueline.duerre@imsweden.org or lucia.greco@imsweden.org
-Be the connection: Do you know any public figures that are in charge of gun-related matters? Connect them to us so that we can organize a destruction in your city!
-Interested in joining a Humanium Metal activist training? Email: lucia.greco@imsweden.org