Reimagining a World Without Landmines
---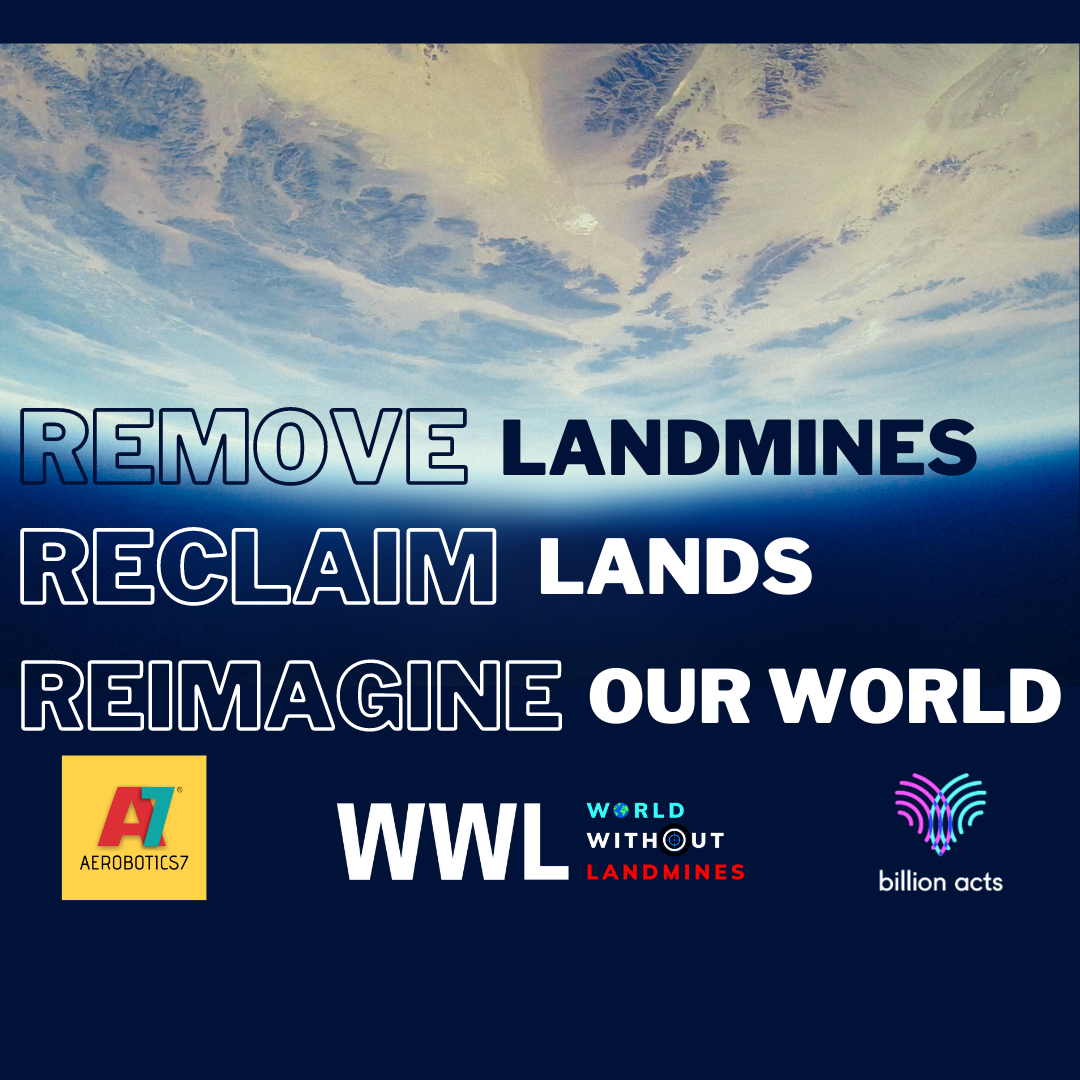 On January 21st, the PeaceJam global community joined 2017 Billion Acts Awardee Harshwardhan Zala and Aerobotics7 for the launch of the Eagle A-7 MVP, a drone that detects and disarms landmines without any human risk. Alongside the official drone reveal, the event also marked the launch of the World Without Landmines campaign!
Harshwardhansinh Zala has always dreamed of creating inventions that benefit those around him. Born into a family without any engineering experience, Zala developed his skills from books and the internet. At just twelve years old, Zala had a portfolio of forty-two projects, eight robots and two drones!
Yet Harsh had his eyes set on a grander mission- to bring to life a project that would benefit all of humanity.
In 2015, Zala set his eyes on a worthy target, the removal of anti-personnel landmines. After viewing footage of the dangerous work of demining landmines in India, Zala was inspired to contribute to the cause.
PeaceJam Nobel Peace Laureate Jody Williams has long undertaken the same cause through her organization the International Campaign to Ban Landmines. The ICBL's Mine Ban Treaty has been signed by over three-fourths of UN member-states, and has led to a dramatic decrease in the production and deployment of landmines. However, there are still over 61 countries and areas that remain littered with landmines. For thousands of people, these remain a daily threat to their lives and livelihoods. In 2018 alone, over 6,000 people lost their lives to these remnants of war and countless others survived with severe injuries.
Zala dreamed of furthering the removal of anti-personnel landmines by designing a drone that could detect and disarm mines remotely. After being ridiculed by potential funders and supporters, Zala set out to fund his own project by mentoring engineering students. Later he established his own organization, Aerobotics7, with the goal of addressing global problems and making the world a safer place.
By 2016, Aerobotics7 had completed it's seventh prototype of the Eagle A-7 MVP drone which earned praise from global leaders. Harshwardhan and Aerobotics7 won a Billion Acts Award from Nobel Peace Laureate Oscar Arias in 2017. Alongside the launch of the Eagle A-7 MVP, Aerobotics7 is working with Billion Acts to create a World Without Landmines.
Harshwardhan is moving his generation forward to tackle not only the eradication of remaining landmines but also the regeneration of the physical spaces left behind. Aerobotics7 is gathering youth to reclaim the land and revitalize areas touched by conflict as well as reimagine the restoration of such areas to more sustainable and peaceful communities. Interested in working to remove landmines, reclaim lands, and reimagine the world? Check out the World Without Landmines campaign here! Stay tuned for more updates.
And check out the restream of the launch on the Aerobotics7 Facebook page!