Supporting Youth in Action for an Inclusive Europe
---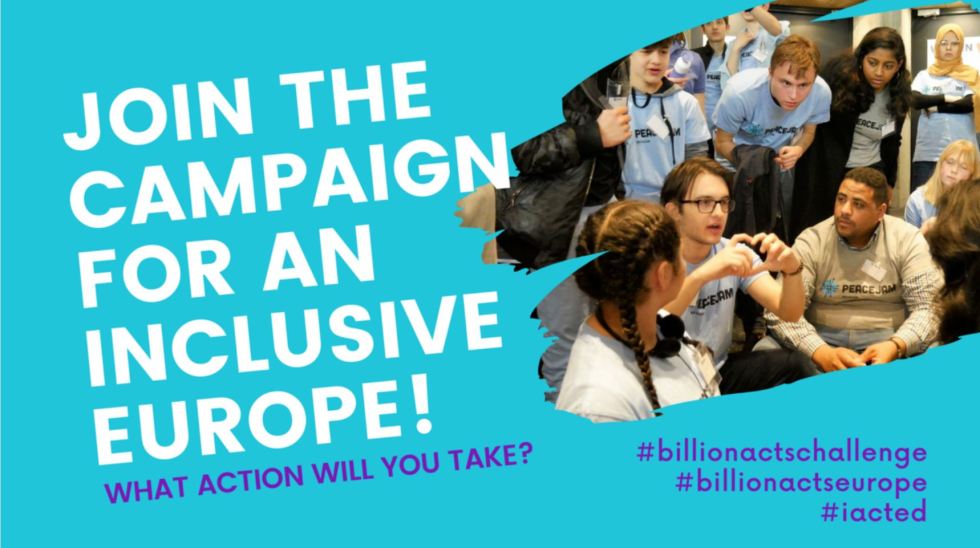 PeaceJam is a youth leadership programme that empowers young people to create positive change in themselves, their communities and in the world through the inspiration of 14 Nobel Peace Laureates who pass on the spirit, skills and wisdom they embody.
In preparation of PeaceJam's Pan-European online youth conference, Wednesday 11- Sunday 15 November 2020, with Nobel Peace Prize winner Jody Williams, The Rt Hon Stuart Lawrence and The International Children's Nobel Peace Prize winner, prominent youth activists from across Europe, we're mobilising young people in Europe to address the most pressing issues in their communities to advance inclusion and promote peace.
Young people are at the forefront championing change, and we want to amplify this through our campaign for an inclusive Europe, and support them with the right tools and resources in order to make a real difference in their communities.
Ultimately, our goal is to cultivate Laureates of the Future that, with our help, can turn their social action ideas into successful projects that advance inclusion and promote peace. We are doing this by giving them the opportunity to hear from inspiring change makers such as The Rt Hon Stuart Lawrence and Earthling Ed, and attend workshops delivered by various organisations such as PeaceJam's 2017 Hero Award winners- Plant-for-the Planet, Tools for Self Reliance, Upstarts Projects and learn skills to develop as young leaders.
Young people aged 14-26 are encouraged to apply for a micro-grant up to €200 (sponsored by Winchester Rotary Club) by submitting their idea and project plan through the 'PeaceJam Laureate of the Future Programme'. The scheme will be launched on September 21 which is the International Day of Peace, encouraging young people across Europe to apply for this award. 10 Successful projects will be selected!
To find out more about the selection criteria, benefits of the award and the funding themes please visit our campaign page.
''To say that on a daily basis you can make a difference, well, you can. One
act of kindness a day can do it''- Betty Wiliams (1967 Nobel Laureate)
By Shwetal Shah
Shwetal is a member of PeaceJam Europe's Youth Team
Betty Williams (1976 Nobel Laureate)